Connect to the ATMC Telephone Directory Anytime, Anywhere
Take the ATMC Telephone Directory with you with the ATMC Search mobile app. It's the easiest way to access the ATMC Telephone Directory anytime, anywhere.

Conduct a quick search using popular categories like restaurants, banks, real estate, pizza and more.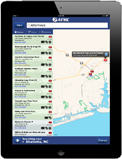 Map every listing with distance from your current location and get driving directions.
For more information about the ATMC Search app:
Search for ATMC Search in the Apple App Store or Google Play Store for Android devices.
Scan one of these QR codes to go directly to the App Store or Google Play Store.
Search the ATMC Directory on your home computer.
Search White Pages or Yellow Pages.
Advertise Your Business
The ATMC Search app is a great new reason to advertise in the ATMC Yellow Pages because it puts the local ATMC Yellow Pages on the smartphones and tablets of your customers! ATMC Yellow Page ads are available online using the new ATMC Search App, and users can view your company's Yellow Page ad then get directions straight to your front door!
Click here for more information on advertising your business in the ATMC Yellow Pages.
You may also contact Data Publishing, the publisher of the ATMC Telephone Directory, at 888-328-2782.