ATMC Grants for Education
As a cooperative, ATMC is dedicated to helping improve education in the communities we serve. Each year ATMC awards $35,000 to educators in Brunswick and Columbus County areas served by ATMC. ATMC began awarding community and education grants in 2006. Since then, more than $705,000 has been awarded to 440 programs touching thousands of lives.
Applications for Education Grants are due each year in February. Funds will be awarded in the fall. For more information, call 910-755-1677.
Inquiries
Inquiries regarding the ATMC Education Grant should be directed to:
ATMC Grants
PO Box 3198
Shallotte, NC 28459
Fax: 910-754-3768
Telephone: 910-755-1677
Email: vbellamy@atmc.com
2019 Education Grant Recipients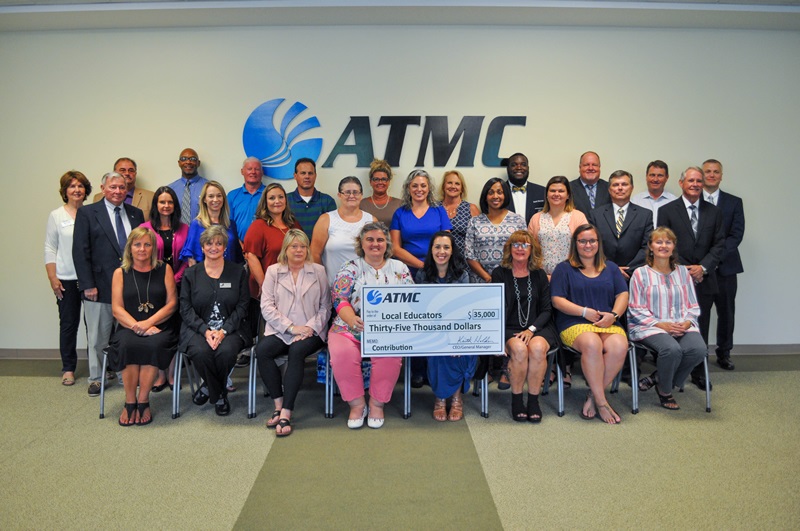 Bolivia Elementary (Sally Lewis, Lauren Harabin and Allison Wilkins)
Guideway Elementary (Rod Gore)
Jessie Mae Monroe Elementary (Marshield Marlow)
Lincoln Elementary (John Dykes)
Old Dock Elementary (Kim Andrews)
Supply Elementary (Misty Hewett)
Supply Elementary (Jennifer Kuhnemann)
Supply Elementary (Sonia Ward)
Supply Elementary (Melissa Riccardi)
Union Elementary (Ashley Inman)
Waccamaw (K-8) (Tiffany Pruitt)
Williams Township School (Sheila Lanier)
Williams Township School (Amanda Greene)
Cedar Grove Middle School (Ami Thompson)
Leland Middle School (Ellen Andrews)
Nakina Middle School (Velvet Hardwick)
Nakina Middle School (Clay Reaves)
Nakina Middle School (Julie Sellers)
South Brunswick Middle School (Tabitha White)
Early College High School (Kathrine Weeks)
North Brunswick High School (Christopher Cook)
South Brunswick High School (Donna Mooneyham)
South Columbus High School (Donna Thigpen)
West Brunswick High School (Lisa Jones)
West Brunswick High School (Crystal Karwacki)
Brunswick County Schools Exceptional Children's Department (Tracy Jones)
Brunswick County Schools Assistive Technology (Ryanne Zavacky)