ATMC Connect Grants
ATMC Connect Grants were established to provide grant funds which will aid in covering costs associated with the utilization of ATMC broadband services to support economic development and community initiatives which require connectivity. This grant program is a key element of the ATMC's vision to enhance access to and increase the use of technology in our community. ATMC has awarded a total of $58,500 to area organizations and initiatives. Connect Grants are accepted on a rolling basis and will continue to award up to $25,000 annually.
Read Criteria
Criteria
Connect Grants must be for programs utilizing broadband services received from ATMC which directly benefit residents, businesses or organizations who serve Brunswick County or the areas of Columbus County served by ATMC.
Organizations must demonstrate through the application process how the project will encourage economic growth or benefit the community served by enhancing access to, or increasing knowledge and use of, technology in specific measurable ways.
A follow up report to show how the funds were used is required to be submitted within six months of disbursement of grant monies.
ATMC requires the right to use information, photos and videos of grant recipients and their projects for promotion.
Inquiries
Inquiries regarding the ATMC Connect Grant should be directed to:
ATMC Grants
PO Box 3198
Shallotte, NC 28459
Fax: 910-754-3768
Telephone: 910-755-1677
Email: vbellamy@atmc.com
2019 Connect Grant Recipients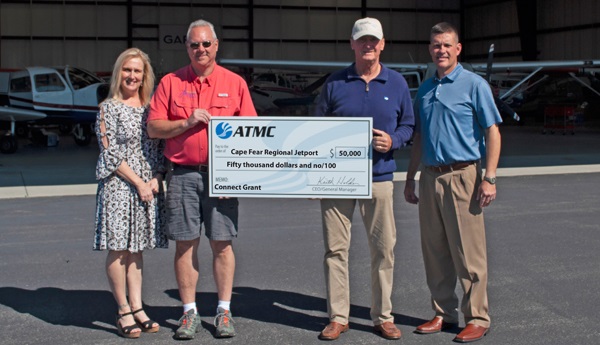 Pictured (L-R): Kelli Thomason, ATMC Business Solutions Consultant, Mike Mendell, Jetport Manager,
Howie Franklin, Jetport Director and Kris Ward, ATMC Director of Business Development