ATMC TV's Game of the Week is back for another season!
Join Sam Hickman and Jay Combs for LIVE high school football, streaming on the ATMC Facebook page and ATMC TV Channel 3/HD 910.
2021 ATMC-TV Game of the Week Schedule:
Bash at the Beach
August 13
Whiteville @ North Brunswick
August 20
Midway @ South Brunswick
August 27
Bunn @ North Brunswick
September 3
North Brunswick @ South Columbus
September 10
New Hanover @ South Brunswick
September 24
Laney @ West Brunswick
October 1
Topsail @ West Brunswick
October 8
West Brunswick @ North Brunswick
October 15
North Brunswick @ South Brunswick
October 22
South Brunswick @ West Brunswick
October 29
---
Sam Hickman
Sam has served as the play-by-play commentator for ATMC TV Game of the Week since 2016.
After graduating from East Carolina University in May 2012, Sam returned to his hometown of Shallotte and began a career in the newspaper industry. After working for several years as a staff writer and sports editor for The Brunswick Beacon, Sam was promoted to managing editor before leaving the industry and accepting a job with Clayton Homes of Shallotte.
Sam married the love of his life, Maggie, in December 2013, and the couple has two children, 5-year-old son Huck and 3-year-old daughter Winnie. Sam and Maggie are actively involved in their church, Eastside Fellowship, and volunteer much of their time coaching a T-Ball team for Shallotte Dixie Youth Baseball.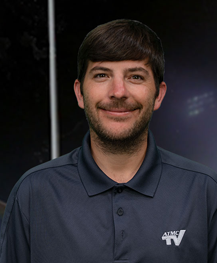 ---
Jay Combs
Jay has served as game analyst for ATMC TV basketball and football broadcasts since 2013. This year marks Jay's 33rd year of sports broadcasting.
During a career that spans 4 decades, Jay has been a part of an estimated 1000 high school and collegiate sports telecasts. He was also a member of the "Cable Ace" award winning telecast team for the Baltimore Orioles Class A Minor League Baseball affiliate Frederick Keys. Jay was a freelance writing contributor for the ACC Basketball and BIG East Basketball Yearbooks. He was named Media Personality of the Year by the Baltimore Touchdown Club in 2007.
A native of Maryland, Jay and his wife Derrice have called Brunswick County NC home since 2004.